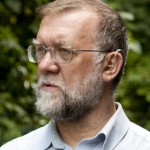 Hi Everyone
'In the Autumn of our days….' – A euphemism for getting old.  It is something that most of us fight tooth and nail; it has given rise to a multimillion pound industry that seeks (or promises) to reverse the ageing process or halt it in some mysterious way; and yet the autumn time can be such a lovely time of the year. 
The golds, reds and browns of the turning leaves can be delight to see, even though the change of colour heralds their time to fall.  The traditional harvest and harvest festival is either upon us or just round the corner.  It is a time of drawing in to settle around a fire – for those of us who still cherish the wood burner or open grate – thousands of years of conditioning and iconic imagery of safety and comfort lost with the replacement of the anonymous radiator and central boiler.  That is just my opinion of course, but as Proverbs points out there is a time and place for everything under heaven – and old age is such a time to accept rather than fight.
With that thought of wearing out, our yearly 'hydro-hiccough' took place a bit earlier this year for it usually takes place around Christmas time. It is no wonder that things wear out within our electrical generating system for it works 24 hours a day, every day, unless it breaks down or has to undergo maintenance.  This year the alternator broke down last month and I replaced with one that I had held back as a temporary measure, for the replacement was not really compatible with the electronic governor.   'What'a , mistaka to maka'.  The voltage 'hunted'.  That is the governor tried to set the voltage but by the time the alternator responded the voltage had gone too high.  Then the governor tried to reduce it and by the time the alternator responded it was too low.  And so on and so on, the whole time getting worse as the balance was hunted unsuccessfully.  The result was a big bang and everything that was switched on got fried!  Quite a catastrophe, for that included a printer, the cooker, the TV, the high definition recorder, another recorder and a sound system.  All is well now, but there is no such thing as free electricity!
To bring you up to date on that 'wrong kind of water' of last month…. The driveway has now been finished.  Hurrah.  It has taken 36 years to complete but we got there in the end.  Now that's taking the long view of things!  There is concrete from the house to the road, so hopefully no more grounding of sump or potholes.  The last bit was laid last week, so I'm breaking out the homebrew.
With relating to Counselling and also Spirituality, you might like to look at my other blog if you click on this link. Accepting who and what you are is the most difficult thing I know to do, especially if the hair is going white, there is little or no energy and things take three or four times as long to do as they used to!  Getting old gracefully is a task in itself.  I wonder if I can do it!
The usual updates are there this month. There is 'Planting by the Moon' and 'Astrology for 'Healers and Therapists'.
Have a good month.
Blessings
John